Melasma is a benign pigmentation disorder that is common in women over the age of 30 – especially pregnant, postpartum and premenopausal women. This can be caused by hormonal disturbances, prolonged nervous stress, overuse of cosmetic peeling ingredients, or frequent exposure to sunlight.
Common causes of skin pigmentation
The direct mechanism that causes skin pigmentation is due to the overgrowth of melanin. Melanin is produced from melanocytes and regulates skin color. In fact, the process of pigment production requires the interaction between the enzyme tyrosinase and UVB rays from the sun. This is why the skin is often darker and darker when exposed to the sun for a long time.
However, in people with melasma, the amount of melanin is often concentrated in certain locations, causing spots and patches of light brown, dark brown with clear boundaries compared to the surrounding skin. Currently, the exact cause of skin pigmentation has not been determined. However, according to dermatologists, the risk of melasma can be increased when there are the following favorable factors:
Endogenous causes
Melasma usually appears and develops strongly in women aged 30 years and older, during pregnancy and after birth due to many different reasons.
Endogenous factors that can cause melasma, include:
Hormonal Disorders: Hormonal disorders are one of the most common causes of pigmentation. Experts have found that declining estrogen levels can cause the hormone MSH (melanocyte stimulating hormone) to go out of control. This condition is capable of stimulating melanin to overproduce and cause plaques and spots on the skin's surface. Therefore, melasma usually occurs in pregnant, postpartum and premenopausal women.
Effects of the aging process: In fact, melasma occurs only in women aged 30 and over and rarely occurs in young women. According to experts, aging facial skin can cause the production of melanin to be out of control and disturbance leading to the appearance of patches and brown spots on the cheeks, chin and nose.
– Stress, prolonged stress: Prolonged stress not only affects brain activity but also indirectly causes skin pigmentation. When stressed, the adrenal glands tend to produce more of the hormone cortisone. When this hormone is elevated, pregnenolone is only able to control cortisol and lose its hormonal balance function. This leads to an excessive decrease / increase in estrogen and the formation of melasma.
In addition, skin pigmentation can also occur due to a number of endogenous causes such as the site, the effects of ovarian and thyroid diseases or it can also be a side effect due to prolonged use of drugs.
Exogenous causes
In addition to endogenous causes, melasma can also arise due to exogenous causes such as:
Frequent sun exposure: UVB rays in the sun can stimulate melanocytes to increase melanin production and cause darkened skin, dark spots, and freckles.
Abuse of peeling-in cosmetics: Long-term use of cosmetics that contain exfoliants can cause skin thinning and sensitivity to the sun. Furthermore, these products cause the lipid membrane to be broken down and cause the skin to lose its resistance function. These factors create favorable conditions for UVB rays to stimulate melanin production and cause darkening of the skin.
In addition to the above reasons, the risk of skin pigmentation may also be increased if there are risk factors such as white, thin skin, living in a polluted environment, and the nature of the work having to be exposed to chemicals, Smog,…
Recognize skin pigmentation – Classification
Unlike freckles, melasma has a diverse and heterogeneous appearance. Based on clinical manifestations, melasma is divided into the following three categories:
Melasma
Melasma usually occurs in the cheek area, characterized by large, small patches of light brown to dark brown color with inconsistent size and shape. Despite having a wide range of effects, this type of melasma has a deep vacuum, so it is often easier to treat than dermis and mixed melasma.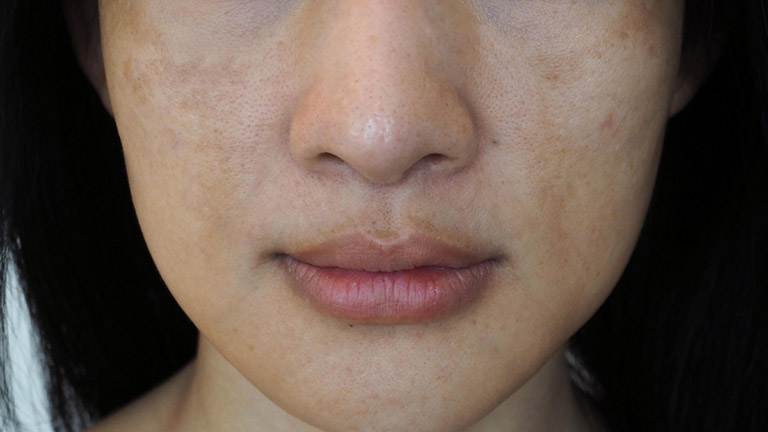 Melasma often occurs due to the harmful effects of environmental pollution, frequent exposure to sunlight, side effects of drugs and the consequences of overuse of peeling cosmetics.
Deep pigmentation
Melasma deep (melasma / melasma) is a type of melasma whose legs are located in the dermis (the last layer of the skin). This type of melasma is characterized by round spots of varying sizes, from brown to dark brown, black, green or grayish green. Deep pigmentation usually grows on the chin, forehead and 2 sides of the cheeks.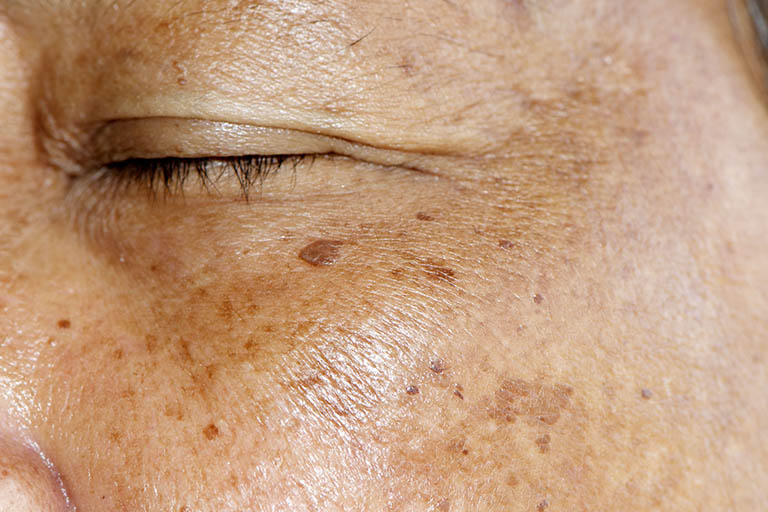 Melasma mixture
Melasma is a combination of melasma and deep pigmentation. Therefore, melasma can appear in both the dermis and epidermis. To treat this type of melasma, it is necessary to combine many methods and require persistence, absolute adherence to doctor's indications.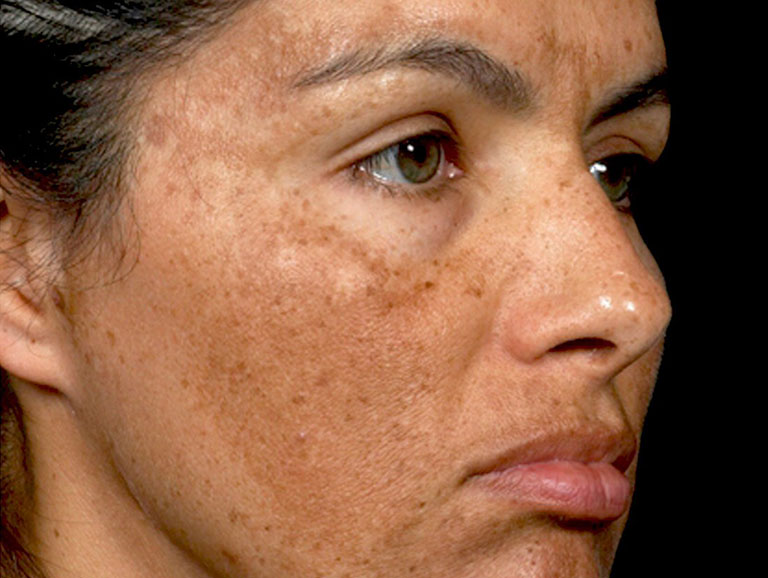 WHAT IS TRANSINO THERMAL CREAM
Transino Whitening Melasma Cream is a product in the cosmetic brand of Transino cosmetics – Japan. It can be said that this is the product that carries the "soul" of this cosmetic set. Because of its effectiveness, it is superior to other melasma cream products in the same segment.
Transino Whitening melasma cream products have two types: melasma day cream and melasma night cream. This pair of melasma cream is not only popular with many women, but also highly appreciated by cosmetic experts. Because the formula and ingredients of Transino Whitening Cream are really quality and completely safe.
Transino Whitening Day Cream is a thick tube-type cream, used to dab on dark spots and darker or freckled areas of the skin. Transino Whitening Night Cream is a tofu cream, a fairly clear and liquid cream, used to apply to the entire face.
There is such a difference because the main uses of these two creams are different. But when combined, it will bring unexpected effects to the user. Therefore, when using Transino Whitening to treat melasma, women should use a minimum of day and night cream. For the best and fastest effect, you should use the Transino Whitening set including: cleanser, lotion, serum, lotion and sunscreen.
THE SOURCE OF TRANSINO'S CERAMIC CREAM
Transino Whitening Melasma Cream is a product of Transino brand. This is a brand of cosmetic manufacturer Daiichi Sankyo – Japan. Transino is a brand famous not only for its anti-aging, anti-melasma cosmetic products, but also for beauty pills from the inside.
Transino is a famous brand not only in Japan, but also well-known throughout Asia for its modern and advanced production technology and quality, effective products that are safe for the health of consumers.
TRANSINO THERMAL CREAM COMPOSITION
In both the day and night melasma cream Transino Whitening has one ingredient that provides an extremely effective melasma treatment. It is Tranexamic Acid. Tranexamic Acid is an active ingredient that has been used in medicine for a long time. However, before being used as a beauty treatment, Tranexamic Acid was used only to stop bleeding.
Later, thanks to the development of cosmetic technology that new researchers discovered the whitening ability of this active ingredient. The mechanism of whitening action of Tranexamic Acid is: inhibiting plasmin. Plasmin is an ingredient that enhances the production of stimulants to synthesize melanin – the melasma-causing melanin.
Thus, it can be said that Tranexamic Acid ingredient is able to prevent melasma, darkening of the skin at its root, so it will bring about quick and clear effects when used continuously.
In addition to Tranexamic Acid, Transino Whitening Day Cream also has ingredients that are both capable of treating melasma, as well as the ability to nourish the skin, improve the tone of the skin effectively such as mulberry extract, elastic compound, Squalene skin rejuvenation … and special active ingredients have a strong impact on the decay of other melanin.
Unlike Transino Whitening Day Cream, which is mainly active ingredients, Transino Whitening Night Cream is more nourishing and nutritious for the skin.
In addition to the divine ingredient Tranexamic Acid, Transino Whitening Night Cream contains asparagus extract, glycerin, trehalose sulfate Na, … These are substances capable of hydrating, stimulating collagen regeneration effectively, helping skin more. Part rejuvenating and stretch the ball smooth.