Benefits:
Reduces melasma, freckles, gradually fades brown spots and unevenly colored skin, skin becomes smoother and rosier, and female hormonal balance is restored.
Increase resistance, assist your body in achieving ideal parameters, and bring in good shape and balance.
Prevent oxidation, anti-aging cells, assist the body in staying healthy, and help prevent cancer.
Helps to repel aging signs, reduce sagging, and remove wrinkles.
A colloid that is combined with collagen to form a bonding fiber mesh that shapes skin structure and prevents sagging. Treatment for melasma, freckles, and acne.
Helps to rejuvenate the skin, relieves stress, relieves aches and pains, and promotes the digestive system.
Prevent wrinkles by balancing moisture.
Provides vitamin C, copper, calcium, magnesium, folate, vitamin B, aids in the fight against wrinkles, protects against UV rays, antioxidants, and boosts the body's resistance.
Ingredients:
Pig Placenta extract: 450,000mg
Fish collagen peptide: 12,000 mg
82 kinds of fermented fruits and vegetables: apple, banana, kiwi, sesames… (5.000mg).
Hyaluronic Acid: 100mg
Vitamin E, Vitamin B1, B2, B6: 330mg
Grape young leaf extract containing resveratrol: 500mg
Hydrolyzed elastin solution: 500mg;
Coenzyme Q10: 25mg
Herb mix powder: 50mg
Cherry blossom extract (1.500mg);
Coconut water powder: 400mg
African Mango Extract: 400mg
Japanese Orange Extract: 120mg
In addition to the nutrients found in 82x Classic, Sakura has:

Kiwi seed extract 🥝 helps whiter skin,
Japan orange ingredient íchDouble white color compared to 82X
Sakura flower 🌸 content up to 1,500mg helps tighten pores
African mango extract to reduce visceral fat, which can stimulate food loss and limit unwanted weight gain
More ingredients coconut water 🥥 help anti-inflammatory, reduce acne treatment!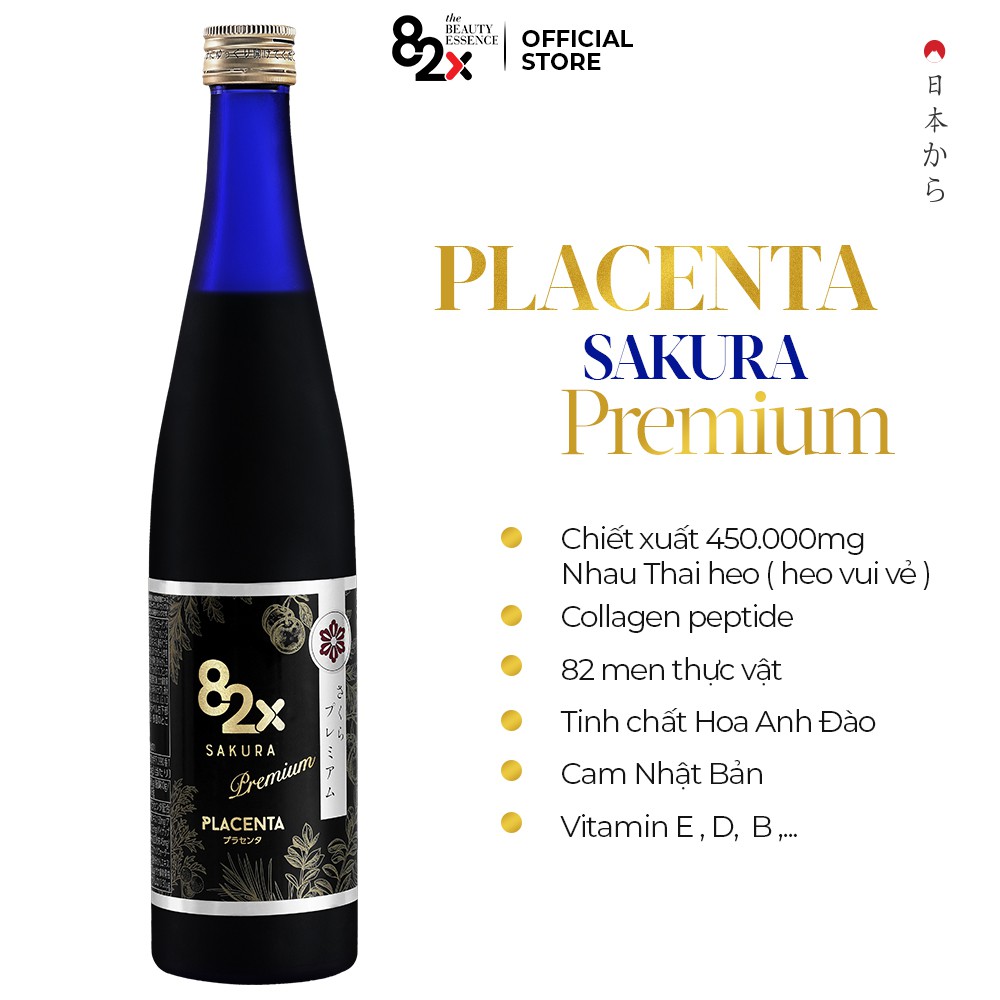 Directly:
Drink 15ml per day, diluted with 100ml water. Evening is the best time to drink (9 pm – 10 pm)
The most comprehensive course is three bottles, which is equivalent to three months, followed by one month off to allow nutrients to absorb.
Products should be stored in the refrigerator cooler compartment after they have been opened.