Uses of Collagen Nano Curcumin Jelly 365 mango flavor: With 60% Nano 365, this Collagen Nano Curcumin Jelly also contains collagen, mixed with 30% delicious mango juice, really a great health and beauty solution:
Famous for preventing cancer, by helping to prevent 3 processes that cancer forms. Prevention sooner than cure. Anyone should pay attention to daily health care, don't get sick and then pay attention, it's too late.
Collagen Nano Curcumin Jelly 365 is a stable cardiovascular support.
Prevention of inflammation, gastric ulcer, duodenal bulb.
Protect the liver well, promote effective operation.
Increase resistance and improve immunity for users.
Enhance memory, prevent Alzheimer's disease in the elderly.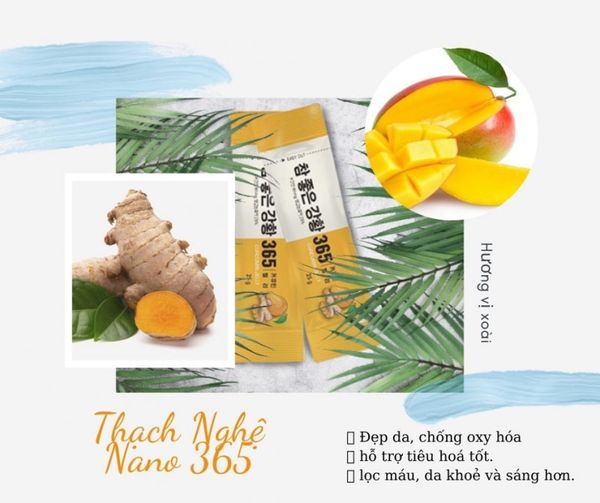 Collagen Nano Curcumin Jelly 365 mango is also loved because of its very good beauty care effect:
Contains antioxidants, helps to fade pigmentation, dark spots or limit the formation of melanin pigments, harmful free radicals.
Nourish blood, make skin rosy, healthy.
Good anti-aging.
For smooth, beautiful skin thanks to collagen supply from the inside.
After only a short time of use, health is enhanced and most importantly, your skin will also look beautiful.
Ingredients in Collagen Nano Curcumin Jelly 365 In the product ingredients, outstanding products can be mentioned including: Nano curcumin – a curcuminoid preparation form from turmeric using Nano technology, Thymomodulin, Gelatin, beeswax… Jelly is safe, benign, does not cause unwanted side effects.
Instructions to use Collagen Nano Curcumin Jelly 365 properly
Use 2 sachets per day, morning and evening.
Especially the jelly form is more delicious when refrigerated.
Should store turmeric jelly in a cool, dry location.
Note: avoid direct sunlight, affecting the texture as well as the quality of the product.
Note: this product is not medicine or can be replaced for medicine, can not treat for any disease.