Uses of Japanese spirulina spirulina
Spirulina supports health and resistance, especially in the elderly, people recovering from surgery, children with picky eaters.
Japanese algae will help reduce the risk of common diseases such as heart disease, cancer, osteoarthritis 
Spirulina helps regulate blood fat and reduce the risk of diseases related to the stomach, heart, diabetes, obesity
In spirulina there are substances that help the body stay healthy, improve digestive system function, and help the body excrete better, preventing common infections.
Purify the body, support the elimination of toxins, help stabilize weight and beautify the skin for women with spirulina.
Spirulina helps to improve pain, degeneration, arthritis, osteoporosis, … and supports the treatment of eye diseases, keeping the body healthy and full of life.
Supplementing with essential nutrients including Calcium, DHA, Folic Acid and iron for stronger pregnant women and healthier babies.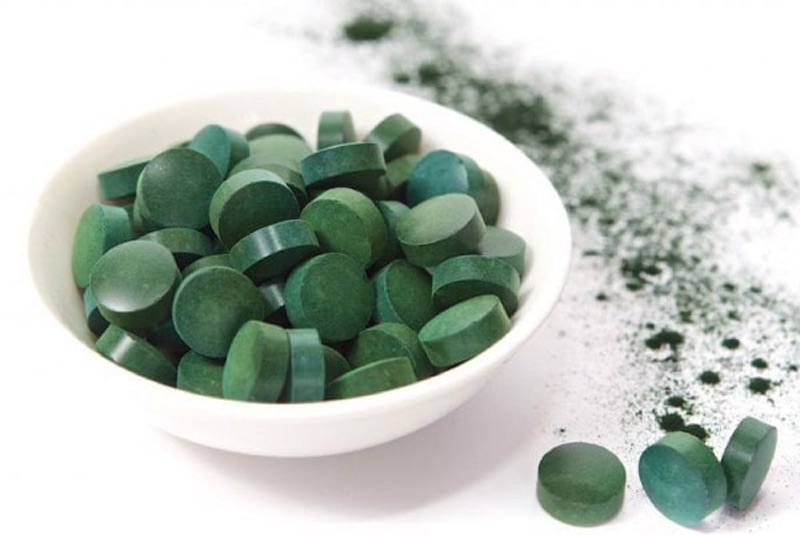 Ingredients Japanese spirulina, box of 2200 tablets
Spirulina 2200 tablets of Japan Algae are made from nutrient-rich Japanese spirulina, containing all 5 groups of essential nutrients for the body, including proteins, minerals, vitamins, carbohydrates and fats. In addition, the product is fortified with a variety of amino acids important for health.
Instructions for using spirulina
For adults: Take 20 – 30 spirulina tablets a day before meals or after meals (can be divided into 2-3 times).
For children under 5 years old: Take less than 5 tablets / time, can be ground into a powder with food (should consult a doctor before use).
For children over 5 years old: Take 10-20 tablets/day, take 2-3 times a day.
People who are losing weight: take algae 30 minutes before meals.
If you want to gain weight: drink seaweed 30 minutes after a meal.
Note
1. Can be used for pregnant or lactating women.
2. Depending on the user's location, the effect is different.
3. This product is not a medicine, it is not a substitute for medicine.
4 things to know to preserve Japanese spirulina 2200 tablets to use longer
1. Close the lid tightly after use.
2. Keep out of reach of children.
3. Store in a cool, dry place.
4. Avoid direct sunlight, high temperature places.