Kensei Okami hair support pill contains natural ingredients such as pig placenta extract, kelp, ginseng, oyster … rich in ingredients that nourish strong hair, reduce the risk of hair loss, weak, dry or easy hair broken.
Kensei Okami hair support pills – Strong, bouncy hair
Uses of Kensei Okami
Nourishes shiny, healthy hair.
Supports faster hair growth, as well as supports faster hair metabolism.
Helps hair grow thicker.
Replenish moisture for strong hair, improve the
 problem of dryness, breakage …
Controls sebum, detoxifies the scalp so that the pores are not clogged and the hair growth cycle is interrupted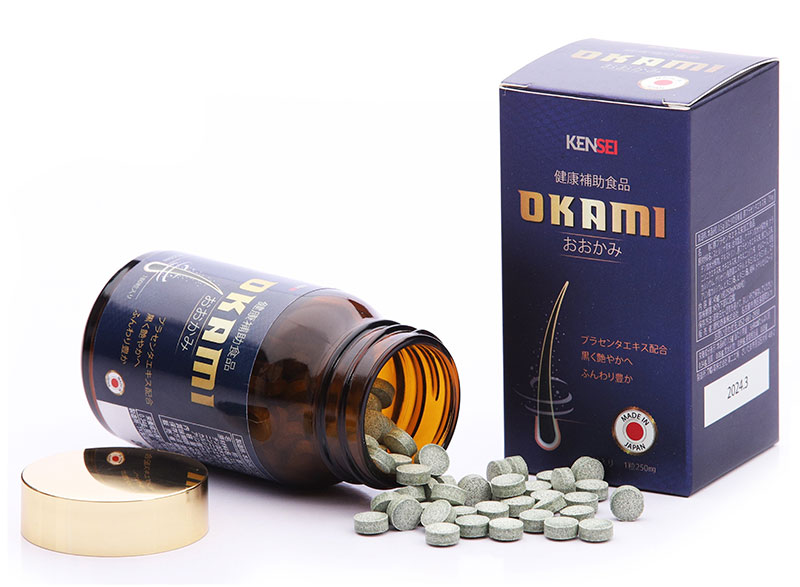 Ingredients of Kensei Okami Hair Support Pills
Content of ingredients in 1 tablet: Spirulina powder (25mg), Eggshell Calcium (Calcium from eggshell – 25mg), Keratin powder (24mg), placenta extract (swine) (12.5mg), kelp powder (10mg) , Vitamin E (D-α-tocopherol – 7.5mg), Vitamin B1 (Thiamine nitrate – 5mg), Vitamin B2 (Riboflavin – 2mg), Vitamin B6 (Pyridoxine Hydrochloride – 2mg), garlic powder (2.5mg), extract powder oyster (0.75mg), ginseng powder (0.75mg).
Cellulose, Methyl Cellulose, Calcium Stearate, Glycerin Fatty Acid Esters.
User object
People with weak, dry or brittle hair.
People at risk of hair loss.
Instructions for using Kensei Okami hair support pills
Drink regularly 6 tablets / day, divided into 2-3 times to drink.
Drink with warm or filtered water.
Note
This product is not a medicine, it is not a substitute for medicine.
Depending on the location of each person, the effect will be different.
Do not use for people who are sensitive to any of the ingredients in the product.
It is recommended to use the product within about a month after opening.
Methods of preservation
Keep out of reach of CHILDREN.
Contains ingredients that are easy to absorb moisture. After drinking, tighten the cap and store.
Preserved in dry, cool place.
Avoid direct sunlight and high temperature.