Uses of Melsmon Platinum Liquid horse placenta drink:
Support to improve health and increase the flexibility and strength of joint cartilage.
Limiting the production and development of melanin, which causes darkening of the skin, naturally white and pink skin.
Improve health and increase resistance, immune system of the body.
Purify the body and support the elimination of toxins, helping to circulate blood easily.
Moisturises the body and the skin is moist and smooth.
Maintain strong hair nails, reduce breakage.
Reduce the symptoms of perimenopause and bring the body more refreshing and youthful.
Highlights of Melsmon Platinum Liquid horse placenta drink:
Horse placenta – High quality beauty essence: Horse placenta essence is not only high-grade from its rarity, but also because its DNA structure is similar to that of the human body, so it has almost absolute absorption. Besides, the essence has a rich source of nutrients from 3000 types of vitamins and minerals, and 300 types of amino acids to help promote health and keep the skin bright and smooth.
Melsmon Platinum Liquid – Premium skin care drink: Melsmon Platinum Liquid is extracted from premium horse placenta and has passed rigorous testing procedures for quality and safety standards in Japan.
In addition, the leading Japanese advanced technology from the Melsmon brand hydrolyzes horse placenta extract to increase the absorption of drinking water many times over.
In the Melsmon Platinum Liquid drink, it also contains a "super" moisturizing ingredient Hyaluronic Acid, with the ability to deeply moisturize and make the skin firm, soft and smooth like silk.
Melsmon – Japan's leading prestigious brand
Melsmon is a brand with more than 60 years of experience and research in the field of beauty and health care from placenta essence, thereby developing high-class products from raw materials, quality and safety with users.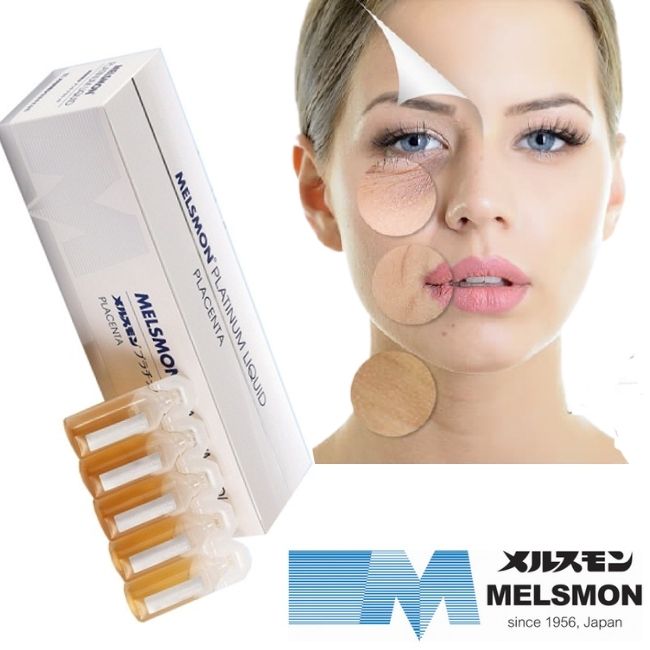 Ingredients in Melsmon Platinum Liquid horse placenta drink:
Hydrolyzed horse placenta extract, hyaluronic acid.
Amino acids: Lysine, alanine, aspartic acid, leucine, glutamic acid, glycine, valine, serine, tyrosine, phenylalanine, threonine, arginine, proline, isoleucine, methionine, histidine.
Origin:
Specification:
The detail information of product:
Melsmon Platinum Liquid Placenta Horse Placenta Drink is prepared from 100% clean placenta, manufactured according to advanced Japanese technology, providing a comprehensive beauty solution, giving women smooth, bright white skin. spotless.
Produced by famous Japanese stem cell company Melsmon. Each box of Melsmon Platinum Liquid Placenta nutritious drink includes 30 pre-designed drinking bottles, suitable for busy people who want to find an effective but convenient beauty method.
The product has an easy-to-drink liquid form, the ability to absorb quickly, helping to shorten the time for beauty and skin care. Especially, Japanese Melsmon placenta drinking water is the only product in the world, produced in oral form and has the same quality as Melsmon placental stem cells in injection form.
Notable uses:
Every day 1 bottle of Melsmon Platinum Liquid Placenta, you will feel a noticeable change every morning when you wake up with smooth, youthful, radiant skin and a light, energetic body.
Provides moisture, increases skin elasticity, prevents new wrinkles from appearing, effectively rejuvenates skin like collagen (smooth, anti-sagging…).
Reduces the harmful effects of UV rays on the skin.
Reduce dark spots and skin signs. At the same time, fade away long-term pigmentation spots, returning smooth, healthy white skin.
Preventing signs of aging comprehensively for the body such as: Helps reduce pre-menopausal problems, enhance physiology, increase resistance, eliminate toxins in the body, reduce cholesterol in the blood, blood circulation, reduce hair loss, gray hair, …
Control and repel melanin, affect tyrosinase to make skin whiter and smoother.
User manual:
For Women: Drink 1 tube/night before going to bed, to beautiful skin, maintain youth.
For Men: Drink 1 ampoule/morning when waking up, to increase vitality and physiological support.
For daily use, store at room temperature.
Brand information:
Melsmon is a famous Japanese cosmetic company, with a history of establishment and development over the past 65 years. Melsmon has successfully applied placenta to the skin aging treatment process at cosmetic institutes, hospitals, … and distributed to countries: Korea, Hong Kong, Thailand, Switzerland.
The product is manufactured by Melsmon Pharmaceutical Co., Ltd with the address at 2-39-1, Ikebukuro, Toshima-ku, Tokyo, 171-0014, Japan. This is a famous pharmaceutical company in Japan with the pioneering experience of more than 65 years, successfully applying placenta stem cell products for the aging treatment process, beauty products are used by many beauty salons, hospitals. used by institutions worldwide.
Note:
The effect may vary depending on the user's location.
Should be combined with a reasonable diet and activities to promote the product's effectiveness.
Pregnant and lactating women should consult a doctor before use.
Methods of preservation:
Keep out of reach of small children.
Store in the refrigerator.
Store in a cool, dry place and avoid high temperatures.