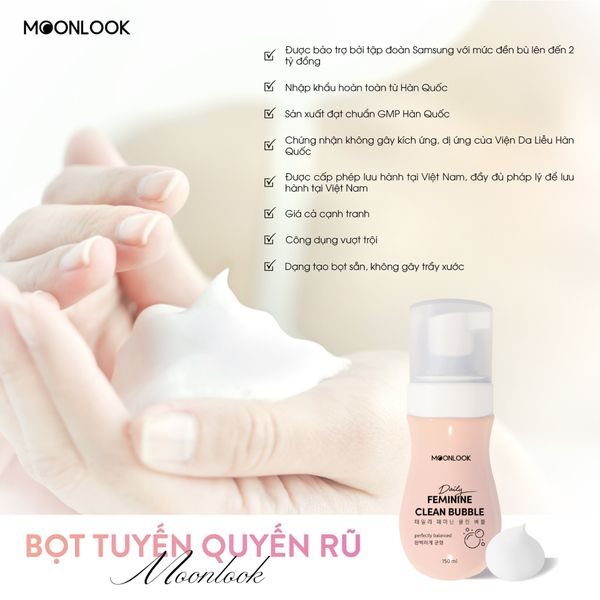 Introducing MoonLook cleaning solution with snow foam to help make the little girl pink
MoonLook cleaning solution with snow foam helps to make the little girl pink
MoonLook cleaning solution with snow foam that helps to make her pink is a special cleaning solution in the form of snow foam, 100% imported from Korea, which gently cleans "the little girl" and prevents bacteria. , balance the pH environment, prevent inflammation and effectively eliminate odors. The product has a cool, gentle scent, feels extremely comfortable without causing dryness, long-term use also helps "girl" become tighter, whiter and more youthful.
– Brand: Moonlook
– Made in Korea
– Expiry date: 24 months
ELEMENT
– Glycerin: non-irritating plant, supports wound healing, maintains elasticity
– Lactic Acid: prevent keratinization and bacteria, moisturize, increase elasticity, improve firmness
– Glutathione: prevents aging, makes the skin screen to maintain the immune system
– Lactobacillus Ferment Filtratr Lactobacillus Ferment Lysate: patented probiotic ingredient, creating a PH environment of 3.8 – 4.5, protecting her from bad breath, odor, burning pain
– Niacinamide: a form of vitamin B3 that rejuvenates the girl, prevents aging and maintains moisture.
– Other natural ingredients such as: wormwood, lettuce leaf extract, mint leaves ….
USES
– Take care and prevent bacteria from entering the "girl"
– Snow foam helps to completely clean odor-causing bacteria, effectively controlling odors
– Prevent irritation, support to prevent inflammation and gynecological diseases
– Soft and gentle foam, moisturizes, balances the pH environment, does not cause skin dryness
– Feeling cool, extremely refreshing and creating a feeling of relaxation for the body
USER MANUAL
– Wet the girl
– Shake the bottle of snow foam spray into your hands and apply evenly to the wet area
– Gently massage for 20-30 seconds
– Rinse with water and dry
COMMIT
– 100% products are of high quality
– Completely genuine product with full papers
– Check the goods and return the goods according to regulations