NEW VERSION: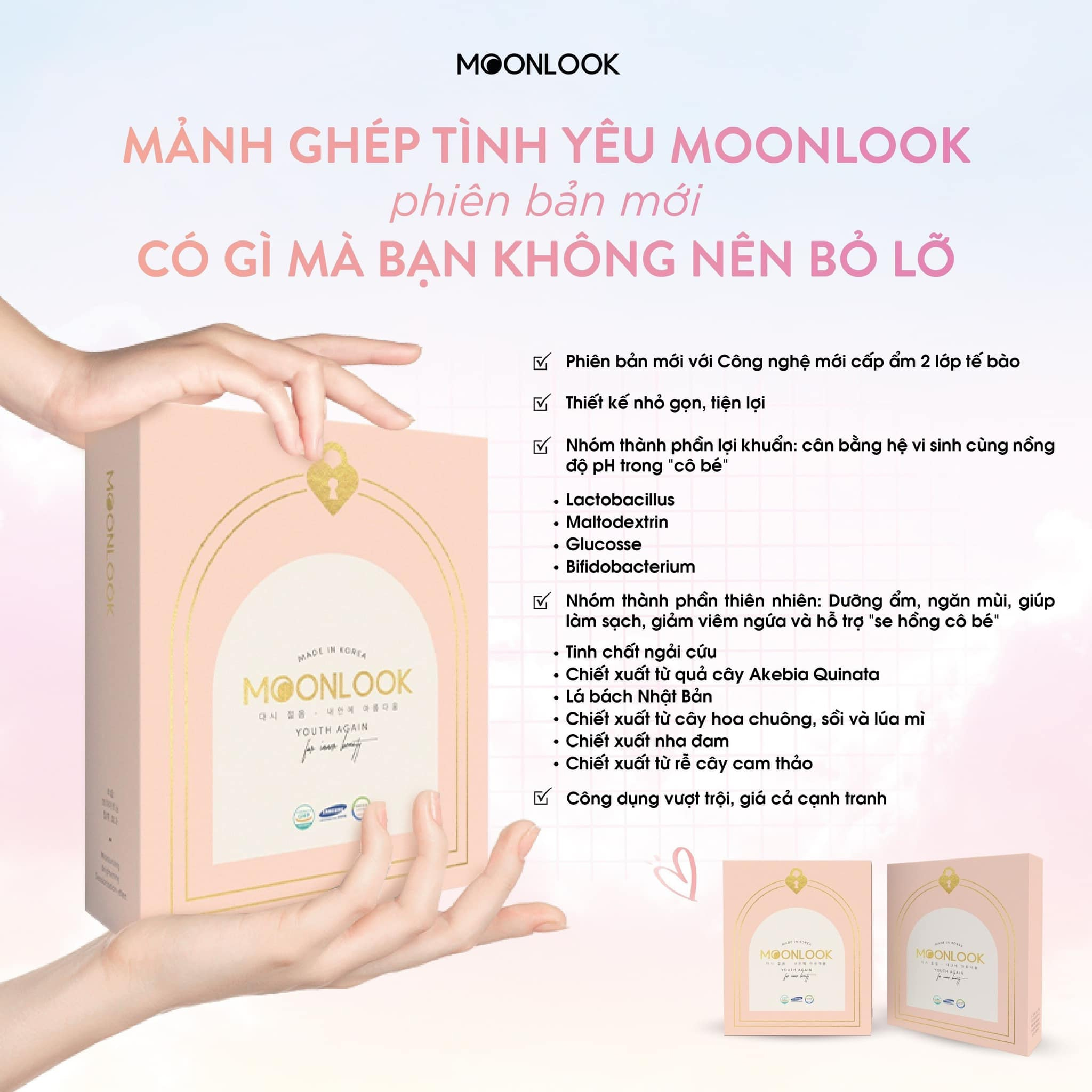 MoonLook is a Vietnamese domestic cosmetic brand, but the products are all imported from Korea. This brand has just been launched, but it has created a fever because the Korean line of tight-fitting tablets is attracting a lot of attention from women. The production process, from input materials, machinery and technology, to the quality of finished products, need to meet Korean GMP standards.
Ingredients
MoonLook love pearl with ingredients from beneficial bacteria such as: Lactobacillus, Bifidobacterium lactis, … and natural ingredients such as wormwood essence, aloe vera extract, … are gentle and absolute peace of mind for the intimate area.
Bifidobacterium, Lactobacillus, Glucose, Aloe Barbadensis Extract, Allantoin, Sodium Chloride, Sodium Hyaluronate, Dipotassium Glycyrrhizate, Maltodextrin, Magnesium Stearate, Microcrystalline Cellulose, Akebia Quinata Fruit extract, Artemisia Annua Extract, Chamaecyparis obtusa Branch/Leaf extract.
Uses
With a combination formula of Aloe Vera – Sodium Hyaluronate – Allantoin and patented microbiological technology, MoonLook Love Pearl will help you handle all these problems:
– Rejuvenate, cleaning, tighten natural vaginal
– Helps increase elasticity, stretch and rejuvenate the private area.
– Cleanse the intimate area from the inside, effectively deodorizing.
– Moisturize, prevent drought, balance pH and microflora.
– Increase immunity, antibacterial helps reduce inflammation, itchy fungus.
– Support wound healing, reduce pain in the intimate area.
Instructions 
MoonLook love pearls come in the form of tablets, which are easy to insert into the vagina. A box of 10 tablets, stored in 5 glass tubes. Use the entire course to feel the obvious effect.
Step 1: Wrap your fingertips with a rubber band to keep it clean and avoid hurting the private area.
Step 2: Lie on your back, raise your head and use your fingers to insert the pill deep into the vagina, about 1 finger long.
Step 3: Leave overnight and rinse with clean water in the morning.
Frequency: Set 3 days in a row, then use 1 tablet per week to achieve the desired clean and tight effect.
Product information
Brand: MoonLook
Specification: 1 Box of 6 tablets (new version – the rectangle box)
Made in Korea