Boost metabolism, burn fat
Support weight loss most effectively in the abdomen, thighs, biceps, calves,
Supplementing amino acids and vitamins to limit nutritional deficiencies when losing weight
Skin beauty support
Sedative, create good sleep
Night Diet Orihiro weight loss pills 60 packs 
1. Product details
Code: 4971493001934
Made in Japan
Producer: Orihiro
Packing: Tablets, 6 tablets/pack, 60 packs/box
Weight: 90g
2. The main use of the product
Night Diet Orihiro weight loss pill box of 60 packs has the ability to destroy long-term fat accumulated in the abdomen, thighs, biceps, calves, ..
The product helps promote metabolism, release energy right when you sleep, help burn excess fat after each meal. 
Orihiro weight loss tablets promote maximum energy release during exercise and exercise.
Helps to lose weight effectively, bring back the desired slim body safely, without harm to health, without dehydration, support digestion.
Weight loss Orihiro adds some essential nutrients to help you stay healthy and not be tired during the diet.
Sedative, help you sleep soundly
Helps to beautify the skin, helping to keep the skin young and smooth.
Using Japan's Night Diet Orihiro weight loss pill in combination with a reasonable exercise and eating regimen will help you find your slim body quickly and safely.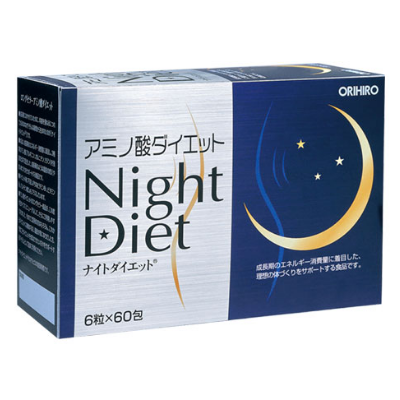 3. Product main ingredients
In 2 bags of Night Diet Orihiro (including 12 small tablets) contains:
| | |
| --- | --- |
| Mixed amino acids | 1700 mg |
| (including Arginine, Ornithine, Lysine) |   |
| Vitamin B1 | 1 mg |
| Vitamin B6 | 1.5 mg |
| Pantothenic acid | 5 mg |
4. How to use the product
Each box contains 60 bags, each bag contains 6 tablets. Use 2 bags per day.
Drink with filtered or warm water.
Should be taken before exercise, at rest or before going to bed.
5. Objects using the product
People with obesity and overweight.
People who want to keep fit and control their current weight.
People who need to supplement energy and nutrients when dieting.
People who want to have a slim body and beautiful skin.
People who often lose sleep, do not sleep deeply.
Note:
Do not use for children, pregnant women.
Women who stop breastfeeding can use it to regain shape and weight after giving birth