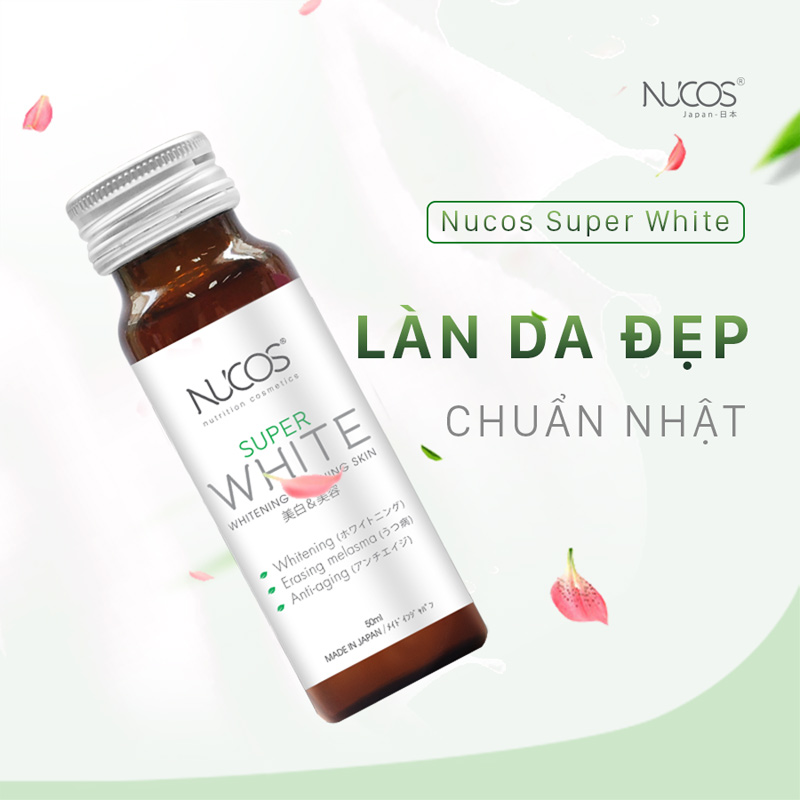 NUCOS SUPER WHITE SKIN WHITENING DRINK USES:
Helps to add nutrients to the skin.
Helps reduce skin pigmentation and prevent dark spots.
Leaves skin bright, smooth, and full of life.
8 active ingredients: Japanese red apple, horse placenta, yeast, vitamin C, tomato, vitamin B3 (Niacin), B6, vitamin E, coenzyme Q10, Collagen peplide bring bright pink skin, effectively prevent aging .
Increases skin's ability to protect itself against harmful UVA and UVB rays.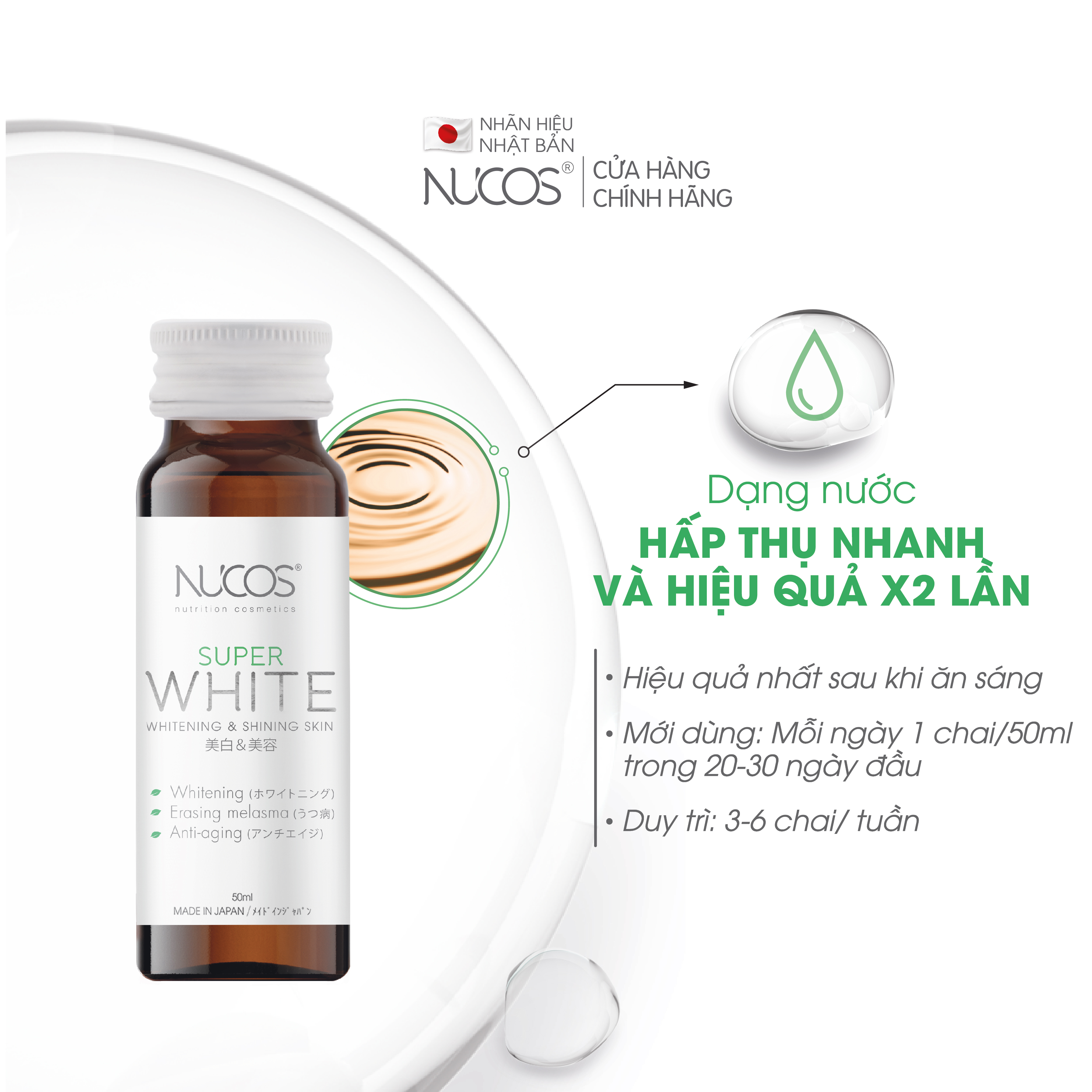 Main ingredients of Nucos Super White
Collagen Peptides ……………………………………………………………………………………….. ………………………………………….1350 mg
L-Ascorbic Acid (Vitamin C)………………………. …………450 mg
Yeast Extract (Contains L-cysteine, Glutathione)……………………………100 mg
Haematococcus Red Algae Extract (Contains Astaxanthin) …………50 mg
Coenzyme Q10 …………………………………………………………………………… …………………………… ….30 mg
Vitamin B3, Vitamin B6, Vitamin E …………………………………………………………….. …………30 mg
Horse Placenta Extract ……………………………………………………………………… ……………………………15 mg
Tomato Extract (Contains Lycopene) ……………..15 mg
Other Ingredients: Preservative: Sodium Benzoate (211), Acidity Regulator: orthophosphoricacod 85% (338), Citric Acid (330), Flavor Enhancer: Erythritol (968), Sweetener: Sucralose (955) , Lychee flavor JL05531, Lychee flavor NAG – 16798, Lychee flavor 4929, Peach flavor – Yogurt 1314, Purified water is added up to 50 ml.
Japanese red algae extract helps to reduce wrinkles, anti-oxidants, increase skin elasticity, fight against the harmful effects of ultraviolet rays on the epidermis. Thanks to that, it also prevents and reduces melasma and freckles.
Horse Placenta Extract, including Protein, 3000 vitamins and minerals and Amino Acids are ingredients that are good for skin and health only found in horse placenta. With the ability to control Melanin optimally, the skin will be increased resistance, eliminating toxins.
Yeast extract containing Gluiafhione and I-Cysieine Peptide helps fight free radicals, even skin tone, giving skin a bright and radiant look.
Vitamin C with the very famous use of whitening, erasing acne, pigmentation or freckles. It also increases skin resistance.
Tomato extract (Lycopenel) is easily absorbed into the body, helping to increase the body's natural sun protection ability, optimally limiting the harmful effects of ultraviolet rays.
Vitamins B3 (Niacin), B6, vitamin E help bruises quickly disappear, providing moisture to the skin. Inhibit sebum production, reduce acne, oily skin. It also enhances the health of the body.
Pure Coenzyme Q10 is famous for its anti-aging properties, blocking the ravages of free radicals. Helps keep skin youthful, smooth and shiny.
Collagen peplide derived from fish helps maintain moisture, preventing aging over time. Prevents the growth and formation of pigmentation. Collagen also helps skin stretch, fill in deep wrinkles and fill scars.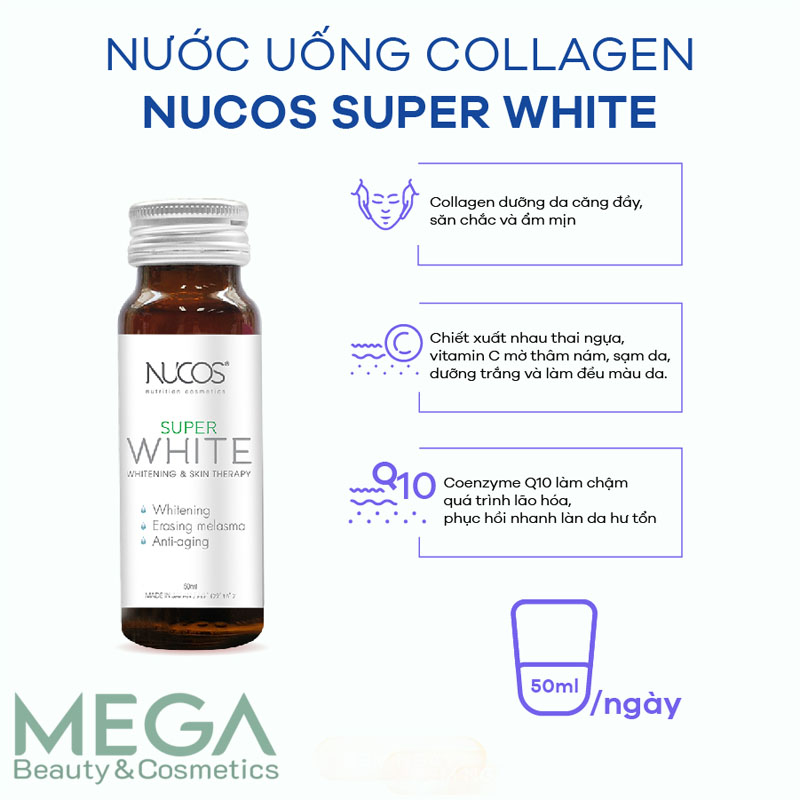 Uses:
Helps to add nutrients to the skin.
Helps reduce skin pigmentation.
Helps brighten skin.
User object:
Used for people 18 years of age or older, people with melasma, freckles, people who want to protect and improve their skin
Dosage:
For Attack Dose: 1 bottle/day for 1-3 months.
For Maintenance Dose: 3 – 6 bottles/week.
Drink after breakfast or lunch.
More delicious cold drink.
STORAGE: Store in a cool, dry place, away from direct sunlight. Keep out of reach of CHILDREN.