Highlights of Poursoin Pla Ocean Premium Salmon roe stem cell drink:
Under the influence of environmental factors or by natural biological mechanisms, the skin rapidly ages as well as gradually loses its ability to regenerate and produce collagen to nourish the skin. Understanding that, Poursoin Pla Ocean Premium salmon roe stem cell drink was "born" as a "miracle" in women's skin care journey.
Skin whitening and youthful body from salmon stem cells
Poursoin Pla Ocean Premium combines precious essences from salmon roe stem cells and natural herbal extracts, providing the body with 3000mg of collagen and 500mg of placenta per day. As a result, it helps to supplement protein with special effects in filling the skin, whitening and increasing skin elasticity.
One of the outstanding features of salmon roe stem cell drink is its ability to rejuvenate the skin and fade the signs of age. Because drinking water in the form of essence has the ability to quickly penetrate into the body, helping to minimize the aging process, and at the same time, the skin will always be fully replenished with nutrients.
Ingredients and uses of Poursoin Pla Ocean Premium salmon roe stem cell drink:
Poursoin Pla Ocean Premium contains many precious compounds in supporting beauty and health care. These include:
– Salmon Placenta Extract (500mg): Nourishes the skin to be youthful, smooth, firm, and improves dark pigmentation.
– Collagen Peptide (3000mg): Enhances the elastic texture, nourishes the skin smooth and smooth.
– Hyaluronic Acid: Supports to improve hormonal disorders in women.
– Rose extract: Helps moisturize, enhance whitening effect, soften skin.
– Royal jelly and Haematococcus green microalgae pigments: Supplement a rich source of nutrients rich in vitamins, amino acids,… strengthen the body's resistance and immunity.
– Extracted from Korean ginseng: Supports digestive system activity, soothes the spirit, helps to eat better, sleep more deeply.
– Soybean sprouts: Nourishes the skin in the most natural way, supports hormone regulation in women.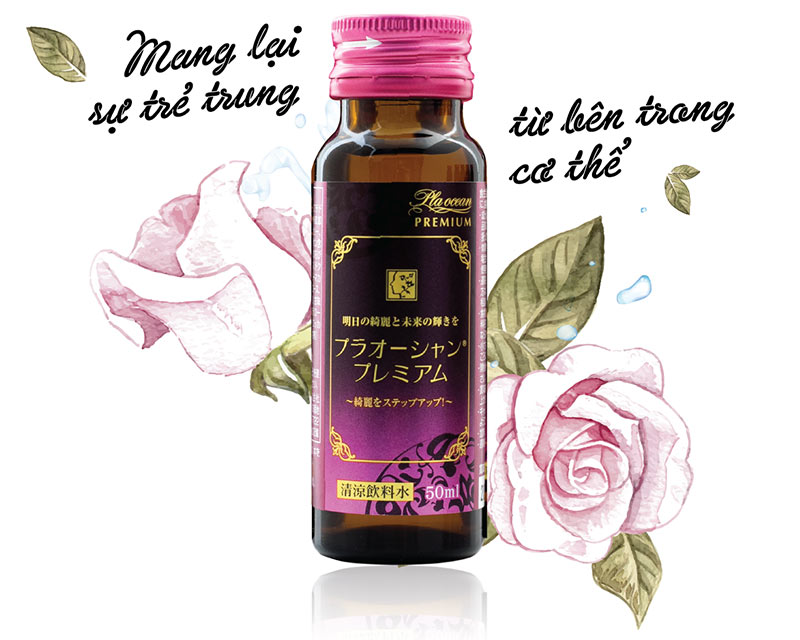 User manual:
– Poursoin salmon roe stem cell drink is suitable for women 30 years old, in the age of menopause or pre-menopause.
– For effective use, should drink 1 bottle per day before going to bed.
– Herbal extracts (such as hawthorn, grape leaves, precious chamomile flowers): Helps to sleep deeply, promote health and nourish the body.
Note:
– Contraindicated for pregnant and lactating women.
– The effect may vary depending on the user's location.
Methods of preservation:
– Store in a cool, dry place.
– Especially need to avoid sunlight, avoid exposure to heat sources.