Overweight and obesity, an abnormal accumulation of body fat, is the sixth leading cause of death globally. It is estimated that at least 3.4 million adults die each year as a result of being overweight or obese. In addition, being overweight also causes diseases such as diabetes, heart disease, fatty blood, cancer, etc.The main and most common cause of obesity and overweight is an energy imbalance between calories in and calories out. In addition, some objective reasons such as long-term use of antibiotics cause side effects, genetics, etc.
About Rubiss Detox Weight Loss
The productWeight Loss RubisDetoxis distributed and responsible by American Ruby's Import-Export Co., Ltd. with ingredients from fruit juices that bring beauty effects and help improve physique effectively. Promises to become an ideal companion not only for women but also for men.
Using RubisS Detox every day does not take up too much of everyone's time, besides, the product also makes the body full of vitality, not causing fatigue like many other weight loss products.
Expert David introduces Rubiss Detox
For those who do not have time to exercise and diet, the product is considered the most perfect savior. With ingredients from fruit juice produced according to GMP standards, it is good for health and helps to beautify the skin, healthy digestive system and help lose weight effectively.
Ingredients and uses of Weight Loss Rubis Detox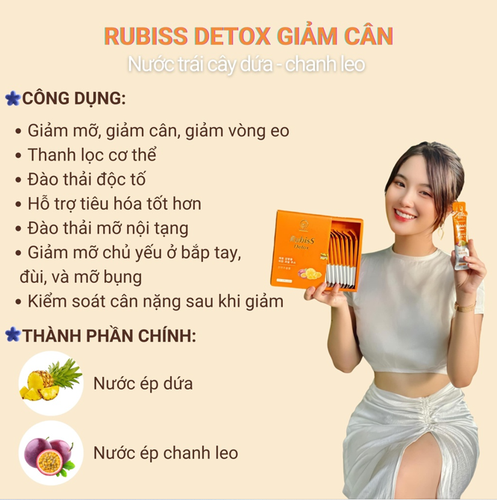 The ingredients of RubisS Detox are completely natural such as:
Pineapple juice: both has a good detoxifying effect and helps burn fat effectively in the thighs, buttocks, arms, abdomen, … In addition, pineapple contains a large amount of fiber, so it will help the digestive system work well. , increase the ability to purify the body, eliminate toxins, strengthen the immune system, …
Passion fruit juice with high vitamin C content helps to improve health, strengthen the body's resistance, support metabolism, and help the fat metabolism process effectively and quickly.
Uses of Rubis Detox Detox:
Support to reduce fat in the liver and blood
Help effectively lose weight, reduce fat in thighs, arms, abdomen, …
Supports appetite control
Supports the elimination of toxins and cleanses the body
Supports the digestive system to work better
Support to slow down the oxidation process, help users maintain a youthful, plump skin, …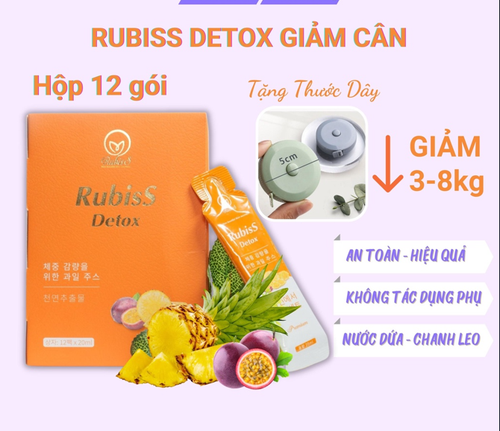 Subjects of using RubisS Detoxyou need to know:
People who want to lose weight and get in shape
People who easily gain weight, can't control their weight, are overweight or obese
Women gain weight after giving birth
People who want to lose weight but maintain energy to work, or want to keep the skin young and shiny, ….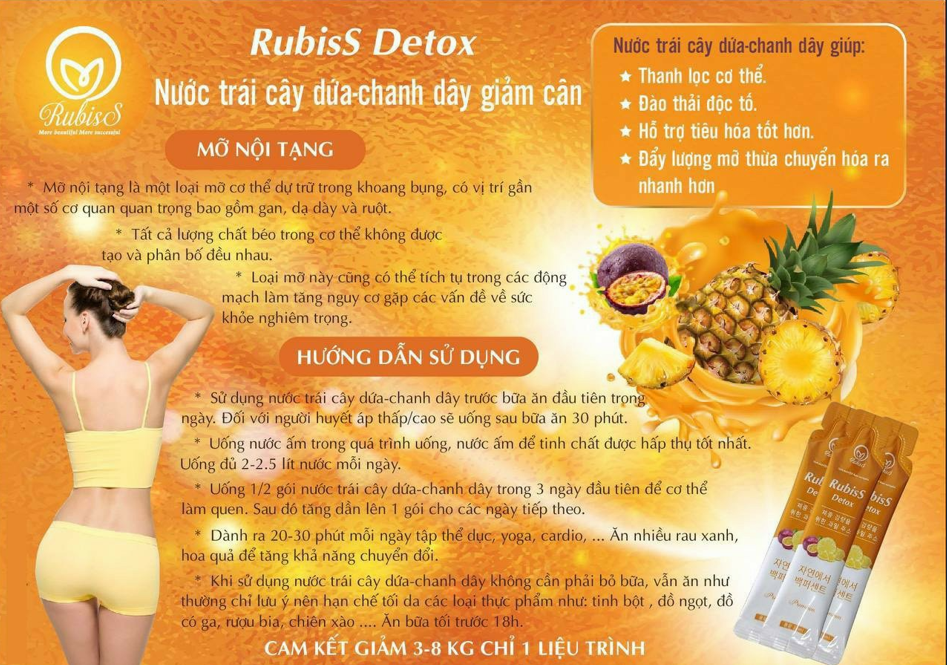 Objects should not be used:
Pregnant women and lactating women under 3 months
Children under 12 years old
People with high blood pressure, a history of cardiovascular disease, people with diabetes, and people who are sensitive to any of the ingredients of the product.
Notes when using Rubis Detox to lose weight
RubisS Detoxis a fruit juice, so it will taste better when cold. Should drink enough2-3 liters of water per day to eliminate toxins and excess fat from the body faster.
Limit the use of sweets, greasy foods, carbonated drinks, etc. because they will slow down the effectiveness of the product.
Limit eating at night, it is best to have dinner before 6pm