Uses of Sakura Legend Premium
Helps improve hormones, balance a more fulfilling married life.
Transforms bad odors in the body into gradually eliminating odors, especially in the intimate areas.
Improve symptoms of perimenopause, menstrual irregularities, dysmenorrhea,…
With ingredients including Vitamin E, more than 8 herbs from nature, it will give you soft and bright skin.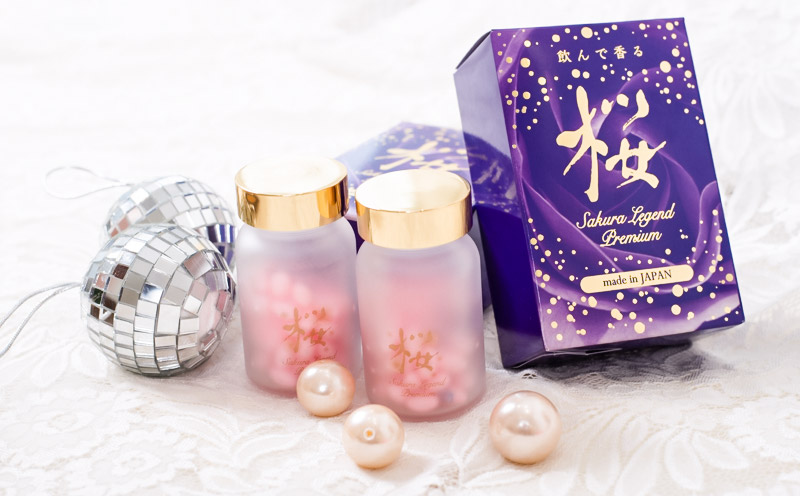 Ingredients of Sakura Legend Premium Tablets
Safflower Oil: Rich in Vitamin E, helps balance hormones, promotes skin health, soothes, fights acne and moisturizes the skin very well.
Evening primrose oil: Helps balance hormones and supports female physiology, minimizes gynecological symptoms, as well as makes the body more attractive.
Rose Oil (Bulgari Damask): Helps to preserve the fragrance for a long time, improve the ability to have sex and increase the feeling of sublimation for a fulfilling married life.
Cherry blossom extract powder: Improves the condition of melasma, freckles, thereby bringing natural white skin and attractive fragrance to the body.
Green Algae Extract: Protects the skin against the harmful effects of the sun.
Pomegranate seed extract: Provides moisture for smooth skin, as well as limiting acne and wrinkle formation on the skin.
Beeswax: Supplementing with Amino Acids helps protect the skin against the effects of the external environment, thereby restoring, moisturizing and softening the skin.
Vitamin E: Helps smooth, youthful skin and balance hormones for women in menopause, reducing hot flashes, menstrual disorders…
Instructions for using Sakura Legend Premium hormonal balance pills
Strong body odor and hormonal disturbances, taking an attack dose for the first 15 days (Box 1): Take 2 pills during the day, and take 2 pills at night before going to bed.
The body has a slight odor and lack of hormonal balance: After the first 15 days of taking (the first box), take 1 pill during the day, and take 2 pills at night before sleeping.
Note
This product is not a medicine, it is not a substitute for medicine.
Depending on the location of each person, the effect will be different.
Methods of preservation
Keep out of reach of CHILDREN.
Preserved in dry, cool place.
Avoid direct sunlight and high temperature.