Uses of Night Diet Tea
Orihiro Night Diet Tea has 100% ingredients from natural herbs, helping to support the body's purification and superior elimination of toxins, thereby eliminating part of the residual weight in the body.
Orihiro Japanese tea helps strengthen the body to use fat, convert it into energy, thereby minimizing excess fat accumulation and accumulation in the body.
"Take advantage" of the time when sleeping, the body is relaxed, the body functions smoothly, promoting the ingredients in the product to perform its function, supporting you to lose weight quickly. faster and more efficient.
Stabilize blood sugar and fat, herbal ingredients and no caffeine to help you sleep better and deeper, without feeling uncomfortable, having trouble sleeping or tired when using other products.
Helps you to relax, relax and sleep better.
In particular, Orihiro weight loss tea also helps to make the skin rosy and smooth.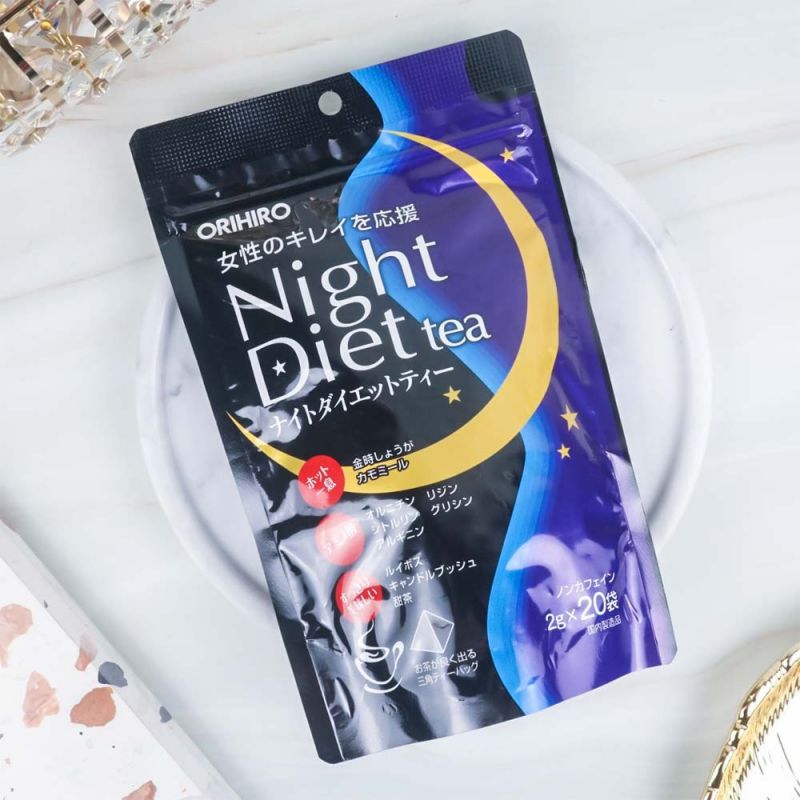 Outstanding ingredients of Orihiro Japanese weight loss tea
Rooibos: A plant native to South Africa, which has the effect of slowing down the aging process.
Buffalo cassava: is an herb that helps to clear heat, detoxify and reduce belly fat quickly.
Ginger: We have long known that ginger has the effect of burning fat, burning fat, filtering and eliminating waste from the body.
Chamomile: Has the effect of calming the spirit, to relax the mind and help you sleep deeper and better. In addition, chrysanthemums also help clear heat, brighten eyes, refresh the spirit, lower blood pressure …
Sweet grass: Originating in the Amambay region on the border of Brazil and Paraguay, has the ability to make sweeteners not converted into fat to accumulate in the body. At the same time, stevia is low in energy, does not ferment, does not decompose, is one of the foods that support active weight loss.
Who uses Orihiro Night Diet Tea
Men and women 18 years and older.
People who are having problems with being overweight, need to regulate their body and stabilize their body weight.
People who have a habit of eating junk food, fried food, have poor absorption of the digestive system, often suffer from constipation.
People with busy lifestyles, erratic diets, and obese people need to reduce their appetite.
Instructions for using Orihiro Night Diet Tea for weight loss
Before sleeping 30 minutes, brew a tea bag with 200-250ml of boiling water, leave for 2-3 minutes then enjoy.
Alternatively, you can add a little honey or lemon for a more unique taste.
Do not add sugar or milk because it will easily reduce the effectiveness of the product.
Depending on the user's location and lifestyle, tea can lose 1-2kg in about 1 month.