Weilaiya Truffle Multi-Stage Repair Shampoo Set 450mlA Highlights:
Restorative shampoo for damaged hair, dry hair, dyed hair, bleached hair
Nourishing scalp, anti-aging scalp
Contains 2 expensive nutrients White Truffle (Germany) & Caviar (France)
Luxurious fragrance very similar to YSL Black Opium perfume
Smooth hair, in salon standard style
Truffle Weilaiya Mushroom Multi-Stage Restoration Shampoo – Setting up a whole new beauty concept
Weilaiya has been doing scientific research specializing in body care for more than 30 years, with rich and rich accumulated experience.
Every new product before launch is subjected to strict selection of input materials and good shipping methods, ensuring the product's comprehensive quality.
Weilaiya Truffle Mushroom Multi-Stage Repair Shampoo – The most expensive & high-class ingredient Weilaiya Restorative Shampoo is extracted from 2 rare and nutritious superfoods in the world to help add moisture to the hair, not to break hair, care for the ends of the hair
German White Truffles: Is a fungus that grows deep underground, is a premium food, is likened to "White Diamond" with the effect of restoring the scalp, anti-aging scalp, strong anti-oxidant.
French Sturgeon CaviaR: A luxurious and rare type of caviar, with a deep moisturizing effect, providing nutrients to the scalp, stimulating hair follicles to grow, for thicker, smoother hair.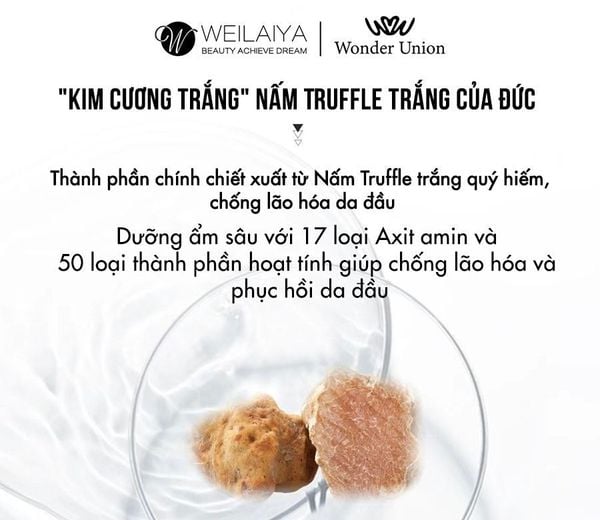 Damask Weilaiya Grand Rose Extracts Whitening Shower Gel
Patented exclusive petal preservation technology
Natural flower materials imported from Bulgaria, carefully selected, professional production process. Fresh petals are treated and preserved by high technology, helping to keep their original state without being affected by temperature, light and other factors.
Patent number of fresh flower preservation technology: ZL 201210420270.9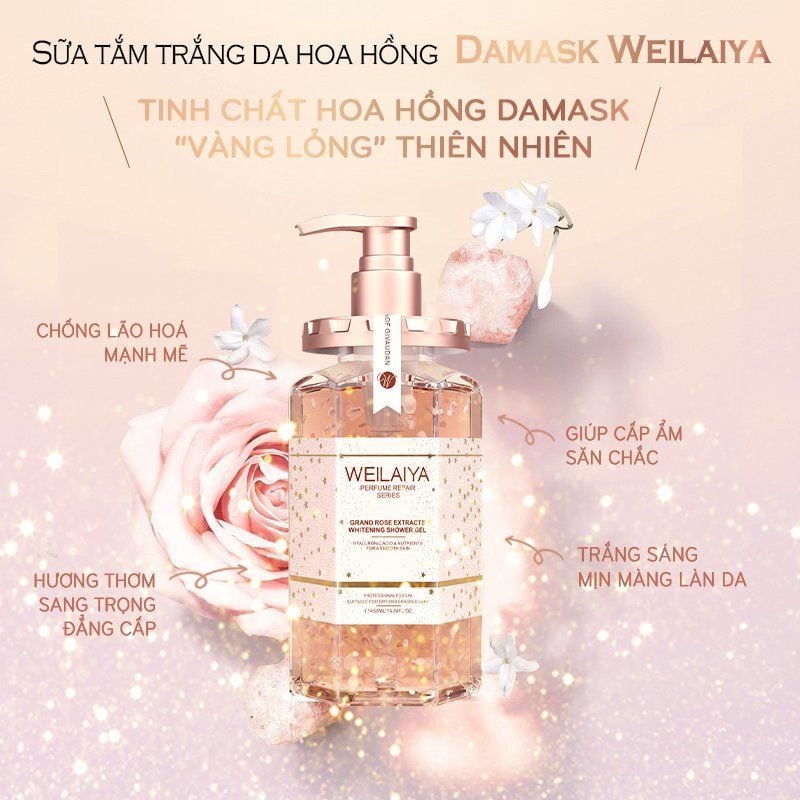 Deeply moisturizes the skin, makes the skin smooth and plump
In addition to Damask rose essential oil, Weilaiya Petal Shower Gel is also rich in amino acids, Centella asiatica essence, Sodium Hyaluronate to help:
Deep moisturizing, gentle cleansing
Anti-oxidant, protects the skin's barrier
Balances the pH of the skin, keeps the skin moist
Core part
Surfactant Amino Acids:  Gently cleans, protects the skin barrier, regulates skin PH, balances oil and water
Damask Rose Petal Extract : Regulates water and oil balance, moisturizes and beautifies skin
Centella asiatica : Mild anti-inflammatory, desensitizing, allergic, antioxidant
Sodium Hyaluronate : Deep moisturizing
🌸Suitable for all skin types
Repair dry, dull skin with hyaluronic acid and Damask pink extract 
Suitable for even sensitive skin: Restores the skin barrier, promotes collagen production for healthier skin
With rough skin: Shower gel with micro-oxygen foam gently removes bacteria on the epidermis to keep skin clean.
🌸 Does not contain harmful chemicals such as heavy metals, mineral oils, preservatives…
---
Weilaiya Hydra-Essential Tight Eye Mask contains ingredients of gotu kola, golden guava, tuberous roots, Niacinamide, Hyaluronic Acid, Carrageenan… to help reduce wrinkles, firm and lift muscles eye area, remove puffiness, fade dark circles…, give you smooth and healthy eye skin.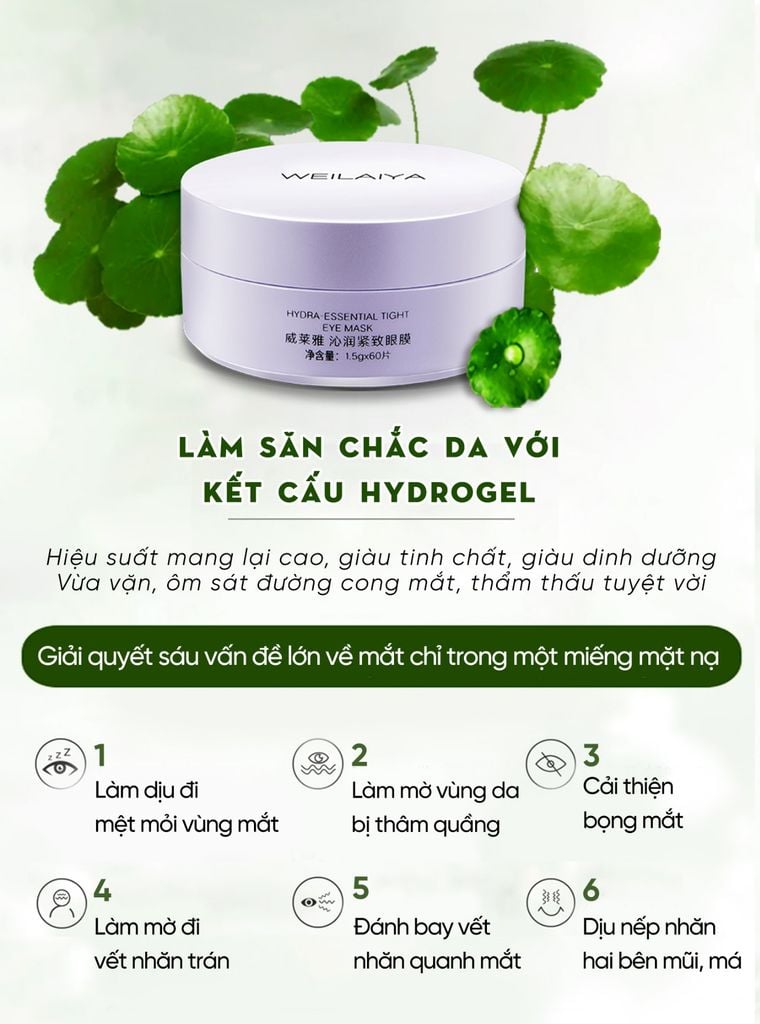 Collagen textured eye mask offers 6 uses in 1
With its Hydrogen texture, the mask easily adheres to the skin. At the same time, the nutrients in the mask gently penetrate into the skin, effectively nourishing the eye skin. The product is suitable for all skin types.
Centella asiatica extract increases resilience and helps rejuvenate eye muscles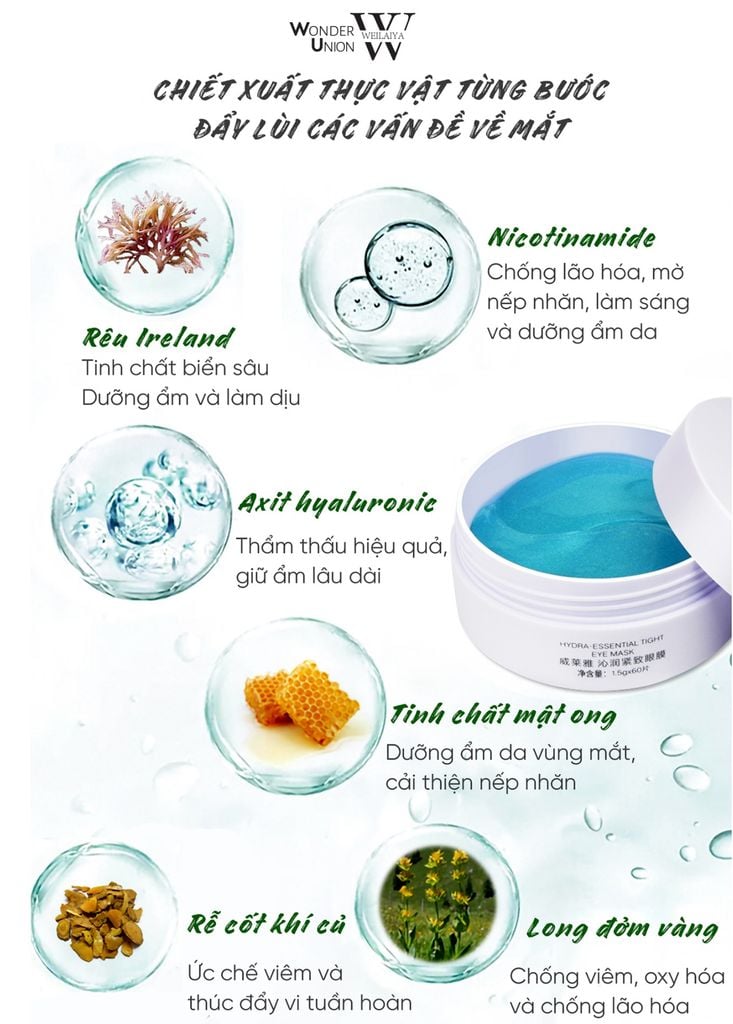 Natural extracts help nourish the eye area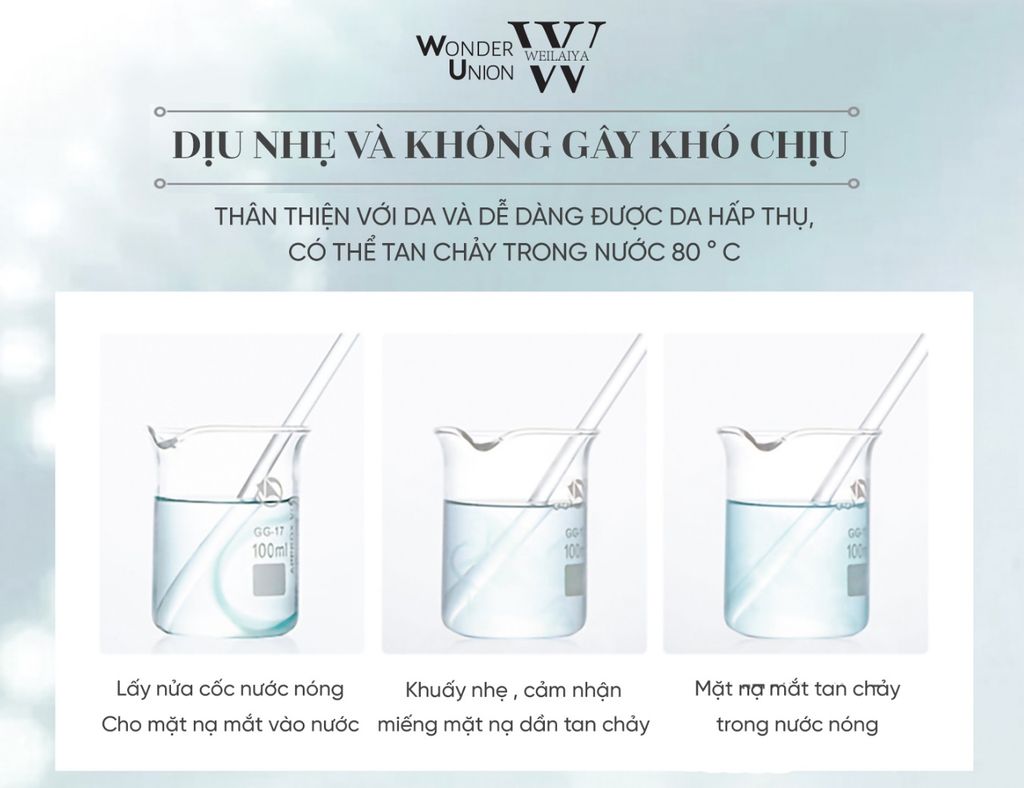 Weilaiya eye mask made of gentle, skin-friendly materials, can be dissolved in water at 80 degrees C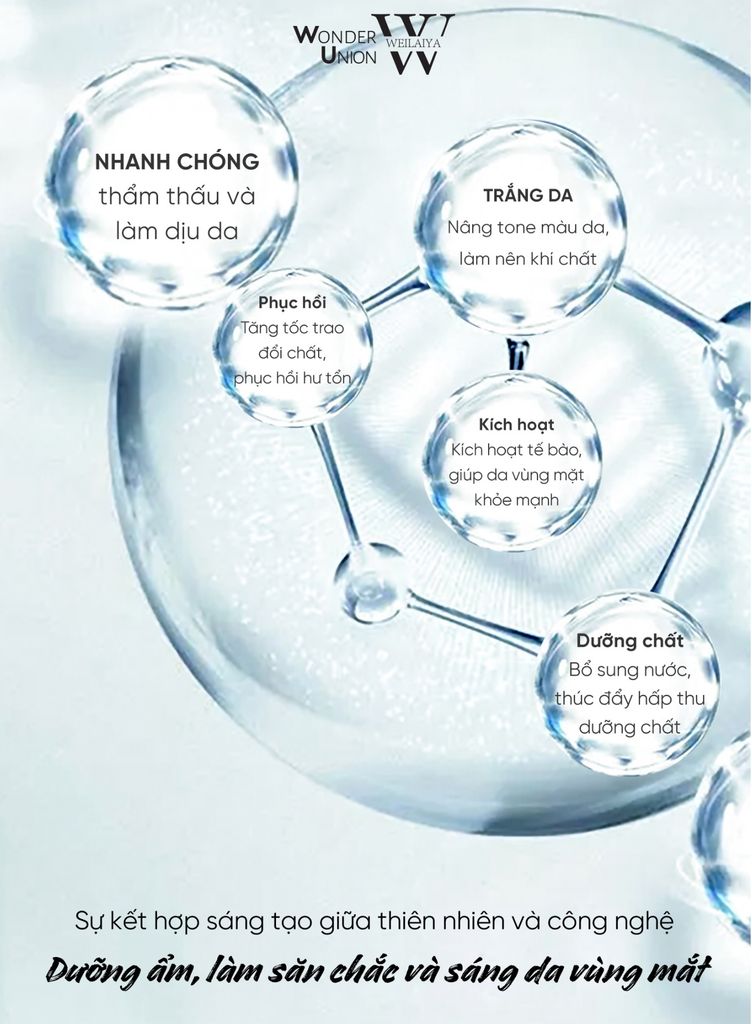 Weilaiya eye mask is a creative combination of nature and technology
User manual