Wettrust Inner Disposable Multicare Essence Gel is a gynecological care product of the Korean Wettrust brand containing Lactic Acid to help inhibit and prevent the growth of bacteria that cause odors, balance PH for "girl" and limit gynecological inflammation. Contains ingredients extracted from nature to help moisturize, prevent dryness, reduce irritation for the intimate area.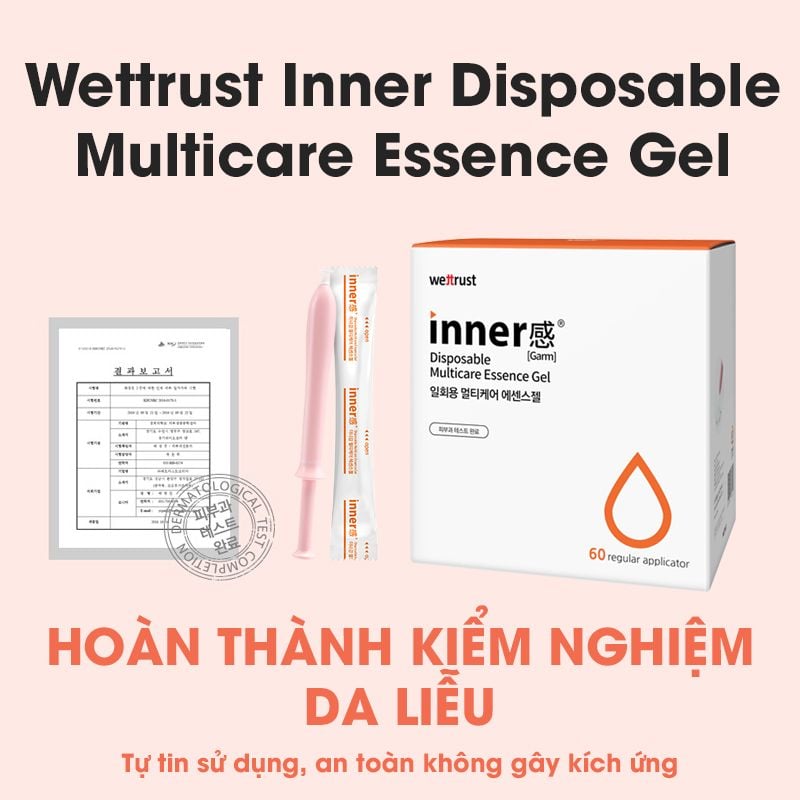 • Featured:
Wettrust Inner Disposable Multicare Essence Gel is now available at Skinfood World containing Lactic Acid to help kill harmful bacteria (such as odor bacteria, especially bacteria that cause vaginitis). )
Safflower seed oil helps to lubricate and relieve dryness: Pomegranate extract (Punica) anti-oxidant, keeping the private area tight
The product has been dermatologically tested and is safe for all skin types, even the most sensitive.
Transparent gel texture has a light fragrance and does not cause discomfort when used
Convenient small pump design that can be carried when traveling or working and used anytime
• Main ingredients: Lactic Acid(1.0%), Carthamus Tinctorius (Safflower) Flower Extract, Punica Granatum Fruit Extract, Artemisia Vularis Extract, Chamomilla Recutita (Matricaria) Flower Extract, Sodium Hyaluronate.
• Recommended audience:
For the private area
For those who are interested in cleaning the sensitive area before and/or after menstruation.
For those of you who are experiencing bad breath, bad smell
For those of you who are experiencing dryness, itching, burning in the private area
For those of you who have had sex
• User manual:
Wash your hands before use and open the package according to the instructions and remove the tool from 1/3 of the package.
Then remove the cover about 45 degrees.
Gently pump the solution into the intimate area.
No need to rinse with water.
• Note:
1 tube can only be used once.
The product should only be used by women who have experienced sexual intercourse.
Do not use the product during pregnancy, lactation or the days of the menstrual cycle.
• Brand: Wettrust
Wettrust is a famous brand from Korea established in 2003. This brand owns a line of intimate care products to help women solve common problems such as dryness, itching, Vaginal infections,… Up to now, this brand is continuing to maintain the research and production of intimate care product lines, bringing high efficiency to users.
• Brand origin: Korea
• Made in Korea
• Capacity: 1.7g/1 tube
Wettrust Inner Disposable Multicare Essence Gel . Wettrust Inner Disposable Multicare Essence Gel